Congratulations on your growing family and exploring the option of adding a doula to your team. We are happy you are here and would love to answer any questions you have about our doulas, our agency or our services.
St. Louis Doulas is a premier doula agency serving families in the Greater St. Louis area. Our agency has six doulas ready to serve families with a variety of services including: Birth Doula, Postpartum Doula, Counseling, Belly Binding, Placenta Encapsulation and Sibling Support.
St. Louis Doulas clients receive exceptional services through our team approach. Every client works with a doula team who provides education, support and guidance from the time you sign your contract until your contract is complete. Our team includes: Certified Birth Doulas, Certified Postpartum Doulas, Licensed Professional Counselors, Certified Lactation Counselors, International Board Certified Lactation Consultants and a Certified Aroma therapist and Herbalist. You have access to our entire team once you have signed your contract with us. We provide you with encouragement, information and support towards discovering and reaching your goals on your parenting journey.
Every St. Louis Doula has completed a doula training, has a completed Family Care Safety Registry on file, has CPR/First Aid Certification and
If you are ready to find a doula who is just right for you or you are interested in learning more about doulas, we offer a free consultation. During a consultation, you can meet with two of our doulas and ask any questions you have. Consultations last about an hour and are an opportunity for you to learn more about doulas in general and about the team you have selected. To set up a consultation, you can e-mail the doulas you are interested in meeting with or you can contact us at This email address is being protected from spambots. You need JavaScript enabled to view it.
We have many options available to help
make doula support accessible and manageable. From payment plans to gift registries and lots of options in between, we can help you find a way to have the doula support you desire! In addition, St. Louis

Doulas has partnered with Homestate Insurance to provide care to their members. If you have another insurance company, we are happy to provide a receipt and help in filing for reimbursement.
We are here for you! Please let us know how we can support and encourage your growing family during this precious time. Our doulas are ready to serve you. Please reach out by e-mailing the doulas you are interested in meeting or contact us at This email address is being protected from spambots. You need JavaScript enabled to view it.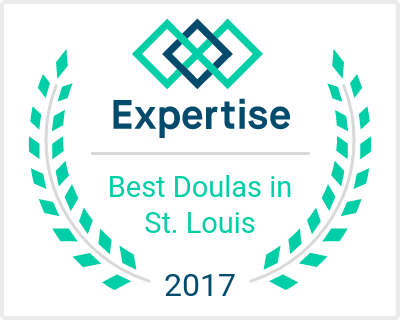 At St Louis Doulas we are proud to have been choosen to be one of the ten best doula agencies in the St Louis region. This was an independant review of over 80 organizations.
St Louis Doulas Facebook Page
find us on our facebook page or email us at

This email address is being protected from spambots. You need JavaScript enabled to view it.

and we will get back to you and answer any questions you may have or just peruse our site and learn more about us, then email us with any additional questions we have not answered for you on our site.

UPCOMING EVENTS
30
Apr
Anderson Baby Fair 10am-1pm At Gateway Center booth 63


6
May
Baby Kid Expo St Charles Convention Center

17
May
Mother Infant Bonding Kick-Off Free Event 1480 Woodstone Drive Suite 112, St Charles, MO 63304

20
May
momma to be tea. Cotton Babies West County

14
June
Meet the Doulas. Mercy Birthing Center. at Mercy Medical Center in Town and Country, MO.
MISSION STATEMENT
St. Louis Doulas strives to be a positive and professional presence in our comunity through high-quality, personalized services to expectant and new families. We also provide professional development and training to Doulas and other Professionals throughout the area. Our goal is for families to have positive, meaningful, and empowering experiences.
ST. LOUIS DOULAS...
Are Trained and/or Certified Birth and Postpartum Doulas
Are CPR/First Aid Certified
Have Completed a Background Check and the Family Care Safety Registry Check
Receive Continued Mentoring and Professional Development
Have the Knowledge and expertise of the Entire St. Louis Doulas Team with Them
FREE Consultation
This email address is being protected from spambots. You need JavaScript enabled to view it.
636-686-0887